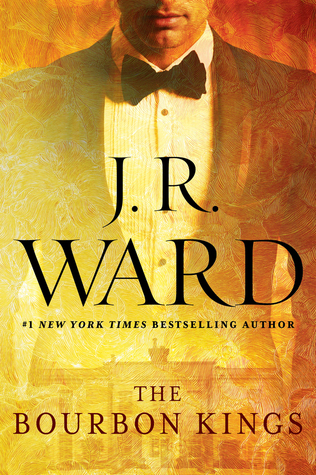 The #1 New York Times bestselling author of the Black Dagger Brotherhood delivers the first novel in an enthralling new series set amid the shifting dynamics of a Southern family defined by wealth and privilege—and compromised by secrets, deceit, and scandal....
For generations, the Bradford family has worn the mantle of kings of the bourbon capital of the world. Their sustained wealth has afforded them prestige and privilege—as well as a hard-won division of class on their sprawling estate, Easterly. Upstairs, a dynasty that by all appearances plays by the rules of good fortune and good taste. Downstairs, the staff who work tirelessly to maintain the impeccable Bradford facade. And never the twain shall meet.
For Lizzie King, Easterly's head gardener, crossing that divide nearly ruined her life. Falling in love with Tulane, the prodigal son of the bourbon dynasty, was nothing that she intended or wanted—and their bitter breakup only served to prove her instincts were right. Now, after two years of staying away, Tulane is finally coming home again, and he is bringing the past with him. No one will be left unmarked: not Tulane's beautiful and ruthless wife; not his older brother, whose bitterness and bad blood know no bounds; and especially not the ironfisted Bradford patriarch, a man with few morals, fewer scruples, and many, many terrible secrets.
As family tensions—professional and intimately private—ignite, Easterly and all its inhabitants are thrown into the grips of an irrevocable transformation, and only the cunning will survive.
The New York Times bestselling author of Slow Burn turns up the heat when a sexy bet turns into so much more…
Hawkin Play, the bad boy rock star with a good guy heart, has lived a lifetime of cleaning up after his twin brother's mistakes. Hunter's most recent screw-up could land Hawke in jail and risk the band's future. Hawke agrees to guest lecture at a local college to stay in the judge's good graces—and a bet with his bandmate to seduce his sexy teaching assistant is icing on the cake.
Quinlan Westin is harder to bed than Hawke imagined. She knows his type and is determined to avoid the rocker at all costs—even if their attraction runs deeper than simple lust.
Just as Hawke might finally be winning over the girl, his brother has other plans. When Hunter realizes his twin finally has a weakness, he'll stop at nothing to take advantage.
The ultimate pleasure lies in sweet surrender . . .

Brash. Brilliant. Devastatingly handsome. Billionaire playboy Rafe Contini can have any woman he wants-no strings, no commitments, no promises. But when American graduate student Nicole Parrish crashes his private party in Monte Carlo, he wants more than a casual one-night stand. He wants to possess this beautiful stranger-body, mind, and soul.

Nicole isn't interested in being possessed by any man-especially one as powerful as Rafe. But with a seductive smile and enigmatic charm, he lures her into his private world of erotic discovery and pushes her to the brink of ecstasy. In the summer days-and nights-that follow, they explore every forbidden fantasy, every willful desire, every wild, dizzying sensation. And come dangerously close to crossing the line-between love and lust, pleasure and pain, power and possession . . .Book 1 in Rafe & Nicole's story.
Amazon
Grant Cassidy knows how to be a football star - Flash that dazzling smile, throw the winning pass, get the girl. But while the hot quarterback loves the game and the lifestyle, no woman has come close to catching his heart. Then he matches wits with a smart, gorgeous model, and Grant finds himself wanting more than a fling.
Supermodel Katrina Koslova might live in a world of glitz and camera flashes, but she works hard to provide for the family that relies on her. She doesn't have time for fun - much less a boyfriend - but Grant seems determined to be the exception to Katrina's rule.
Their explosive chemistry is undeniable, but Katrina's afraid to let go and rely on anyone but herself. Grant intends to ease her fears and prove he's a man of style and substance - a man she can count on.
Amazon
From New York Times and USA Today bestselling author Jay Crownover, comes the second book in a combustible new series, Welcome to the Point, that is sexier, darker, and better than ever.
There's a difference between a bad boy and a boy who is bad. . . . Welcome to the Point.
In a dark and broken kingdom, a ruler has be fearless to control the streets and the ruthless people who run them. Race Hartman is just bold enough, just smart enough, and just lost enough to wear the crown. Places like The Point will always have bad things and bad people, but the man in control of all that badness can minimize the devastation. Race has a plan, but can he prevent total annihilation without destroying himself?
Brysen Carter has always seen the real Race—a guy too pretty, too smooth, and way too dangerous. Basking in his golden glow is very tempting, but Brysen knows she'll eventually get burned. She has enough problems without the risky danger and mayhem that comes with a guy like Race. Too bad Brysen faces a threat close to home that might be more dangerous than anything The Point has ever produced.. And the only person interested in keeping her safe is the one man she can't allow herself to have.
Sometimes being bold is the only way to stay alive. But can she let Race save her life . . . if it means losing herself to him?