We're celebrating the release of FALLING DEEP by Diana Gardin! Check out the Excerpt and GIVEAWAY below!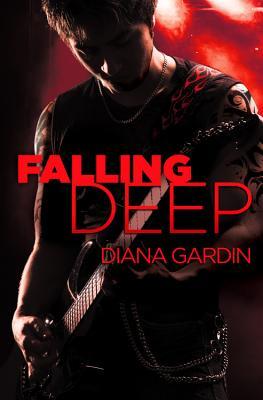 Title: FALLING DEEP
Author: Diana Gardin
Age: New Adult
Genre: Contemporary Romance
Publisher: Grand Central/Forever Yours
Scheduled to release: April 7, 2015
Reed Hopewell is a lot of things to a lot of people . . .

To his parents, he's the son who needs to get serious. To his friends, he's the player they all want to be. And to his fans, he's the hottest rocker in Charleston. But never has Reed been anyone's hero-until the night he finds Hope.
Hope Dawson can count the number of men she trusts on one hand. Definitely not the guys she goes out with or the stepfather who treats her like property. She'd be out of his house tomorrow if not for the need to protect her little sister. But when things at home go from bad to worse, Hope has to act fast-and Reed is the only person she can turn to . . .
Prologue
She bit down hard on her bottom lip, the soft trickle of blood pooling in her mouth a welcome distraction from the terrible ache beginning to build in her chest.
She could see the darkness as it crept into his eyes. It was the shrouded darkness she had been so attracted to when she first laid eyes on him under the hot stage lights. The hard pallor that let her know despite his glossy appearance and the obvious presence of prosperity in his life, he had clawed his way out of a long dark tunnel of pain similar to her own. She had been drawn to him because she hoped if he could get out, then maybe she could, too. Maybe he could pull her to the end of her very own darkness.
Then she'd made the mistake of getting to know him. She learned that he wasn't full of darkness, that he was full of the brightest light she'd ever dared to dream of. And when that light was directed at her, she'd completely fallen victim to his goodness and the shine that made him Reed.
But that hope was gone now, that flame had been extinguished, and in its place stood the bleak certainty that no matter how hard she wished, no matter how hard she wanted it, she was never going to be able to escape this life that karma had gifted her.
And Reed Hopewell wasn't going to be her savior, after all.
(3) FALLING DEEP ebooks, (1) Signed copy, (1) Nelson Island swag pack and a $10 Amazon gift card
Diana is the author of the YA novel COLORBLIND, and the NA Contemporary Romance novels OUT OF THE ASHES, SETTLING ASHES, AND WANTING FOREVER. All are available for purchase now. Diana is a Virginia girl living In South Carolina, and her beloved home in the South is the backdrop for all of her novels. She adores writing about Southern girls and boys finding their way in and out of love. She's married to the love of her life, and they have two fabulous/crazy children under the age of five.